Recipes from Life on the Prairie of North Dakota
At Christmas, we love to enjoy Stirrum + Fleischkuechkle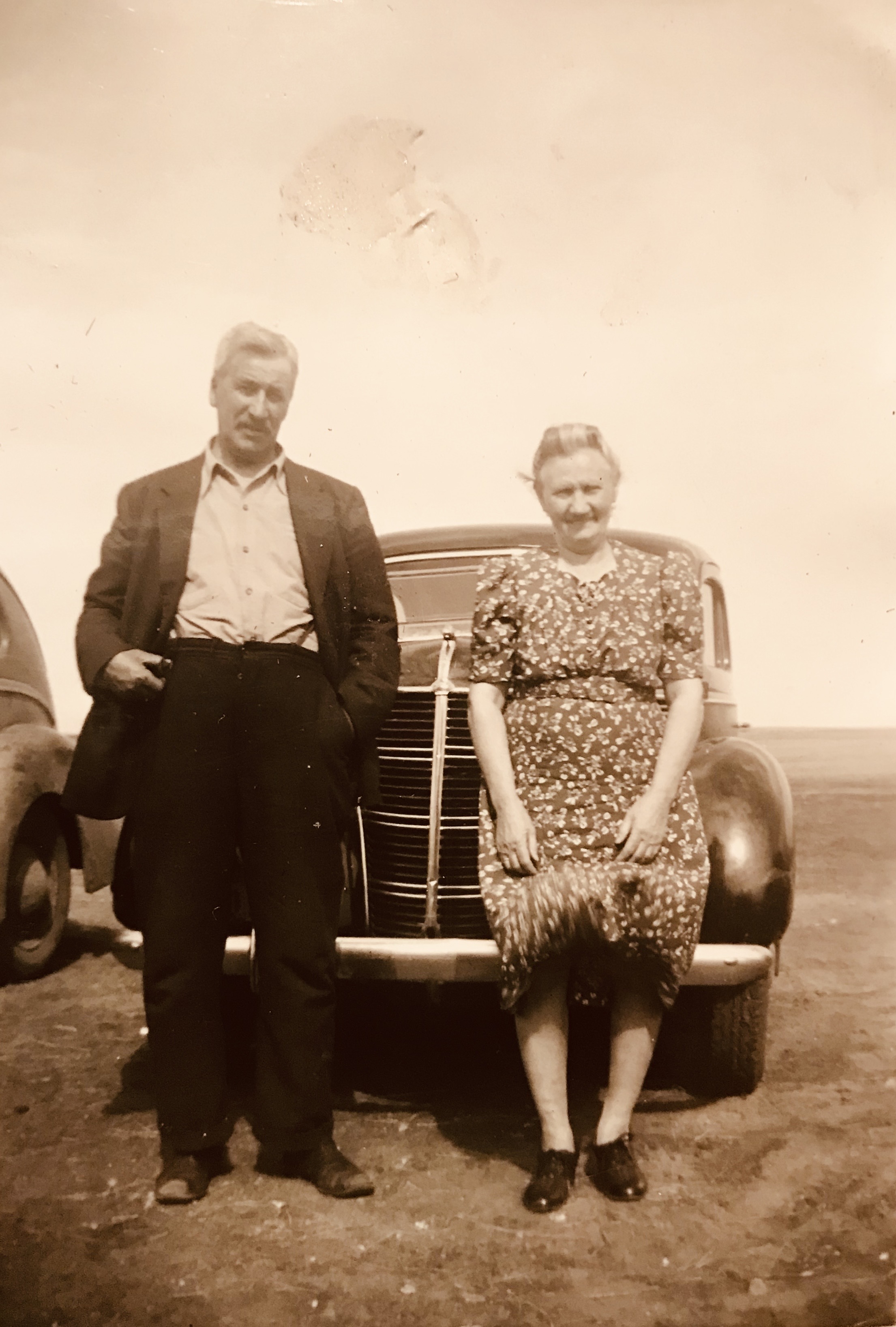 You see, my Great Grandparents are Germans from Russia that left their country to escape oppression in Russia for their family and their own safety in search of a better life with the prospect of cheap and nearly endless prairie land. They knew of other friends that had made the long trip to the US and settled in North Dakota. My Great-Grandpa, Andrew Trautmann came first to Ellis Island, traveled to North Dakota and settled there with fellow friends from their colony in the old country.
Life on the Prairie
Once settled, he sent for my Great Grandma, Rose Trautmann and their children who arrived in Boston then traveled to North Dakota to join my Great Grandpa Andrew in North Dakota. My grandma was then born a couple years later in 1916. Life on the prairie was tough, with winds, droughts, extreme temperatures, just to name a few of the hardships. Many of their children went to work on other farms and homesteads to help earn money for the family. Including my grandmother, Martha. As a young teenager, she worked on the Schneider Farm and eventually ended up marrying the farmer's son, Joe, my grandfather.
To our family, food was more than a necessity. Suppertime was a treasured time to destress from the day's hard work and spend valuable time together with the people they loved, whether that was friends, neighbors, travelers and or of course, family. Food was very important because in the winter months they were often faced with harsh weather, unable to plant food sources and more than not, "snowed in".
This forced them to be creative cooks.
Utilizing things made from flour, which was a cheap necessity that they made sure to have enough on hand to last for a month or two. Potatoes were another staple stored up from the last harvest to stretch throughout the winter months. Some settlers were blessed with a cow or two for milk and cream or a possible special occasion meat source. Lastly, some may have had chickens to sustain a supply of eggs and or another viable meat source to sell and or trade with neighbors.
The recipes that were created as a survival meal through the toughest of times coming into a new land, with new dreams continue on throughout our family traditions still today. Today, we don't look at them as a survival meal... They are scrumptious delicacies that the whole family looks forward to enjoying together. Those are the times I miss most with my Grandma Martha.
She taught me so much from the old ways of life, what truly matters and what really is valued and treasured in life.
I am so blessed to be fortunate enough to have learned so much from her that I can pass it down to my children and continue her beautifully resilient legacy.
In the words of my Grandma Martha Schneider,
"Kum Essa!" (Come eat!)
North Dakota Germans From Russia Stirrum (STEER-UM)
1 Egg
1/2 tsp. Baking Powder
3/4 tsp. salt
3 Tbsp. Sugar
1 Cup Milk
1-1/2 Cups Flour
Directions
- Beat egg and add remaining ingredients until a pancake-like dough begins to form.
- Fry in a large skillet with 1/2 cup lard or shortening.
- Once the sides begin to brown, begin to flip and chop into small pieces. Continue mixing and chopping until crumbly and crispy outsides.
- Serve warm plain, with homegrown fresh lettuce and cream dressing or as a sweet dish topped with maple syrup or a mixture of cinnamon and sugar.
Fleischkuechkle shown served with mashed potatoes and gravy
North Dakota Fleischkuechkle (FLESH-KEEK-LUH)
Meat Filling
3 Pounds Lean Ground Beef (or 1.5 pounds of each beef and pork)
3 Medium cloves of crushed garlic or to your taste
1 tsp. Black Pepper (or to taste)
1 Tbsp Salt (or to taste)
1/2 Cup Water
-Mix all the above ingredients well until combined.
Dough
5-6 Cups of Flour
5 eggs
1 Tbsp Sugar
1 tsp. Salt
1-1/2 to 2 Cups Cream or Half and Half
Directions
-Combine to form a dough.
-Cut out a ball of dough just smaller than your palm (about a golf ball size) and roll out flat.
-Add meat mixture to half of the dough.
-Fold the empty dough side over the meat side and seal with an egg wash of 1 egg and 1 Tbsp water. You can pinch shut with fingers and or a fork to seal meat inside the dough pouch.
-Deep fry until golden brown and meat has steamed/cooked inside.
-Serving suggestions - with a good homemade North Dakotan Knoephla soup or with a mound of mashed potatoes and gravy or on its own with ketchup and french fries.
Recipes from Life on the Prairie of North Dakota was shared by Sonya Neal of Amazingly Graced.